Very Good Recipes of Butternut from 365 Days of Baking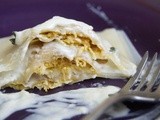 Roasted Butternut Squash and Chicken Ravioli
By 365 Days of Baking
10/03/12 02:15
I've always wanted to make ravioli at home, but I don't own a pasta maker and really have no desire to get one after my brother-in-law mentioned some years ago that it was a lot of work. THEN sometime last year, I heard you could make ravioli with wonton...
Add to my recipe book
Oven Roasted Butternut Squash Risotto
By 365 Days of Baking
05/18/12 22:14
Seriously? It's been 5 days since I've posted?? I know I've been busy, but geez!! Thank you ALL SO VERY MUCH for your patience with my lack of posting. Life's been crazy, but fun. Monday and Wednesday were big baking days with a friend, Marlena of Bella...
Add to my recipe book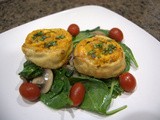 Day 287 - Butternut Chicken Pinwheels Over Sauteed Spinach in a White Wine Mushroom Sauce
By 365 Days of Baking
12/12/11 05:59
Wow, that sure is one mouthful (no pun intended) of a title, eh? This wins the award for being the longest title on my blog yet so far. I feel like a real professional chef when I say it, too. haha And it was one mouthful of a dinner, too. What the heck...
Add to my recipe book