Very Good Recipes of Black from A Clove of Garlic, A Pinch of Salt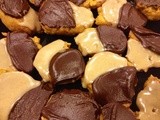 Pumpkin Black and White Cookies (Sundays with Joy)
By A Clove of Garlic, A Pinch of Salt
10/17/12 05:07
Let me tell you a tale. Once upon a time there was a fair maiden who soaked up the California sunshine everyday. Except when it was rainy. Then she stayed inside her house, and ate all of her mini pumpkin black and white cookies AFTER she made pumpkin puree...
Add to my recipe book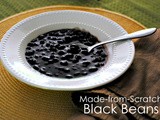 The Glue that Holds Us Together... (Made-from-Scratch Black Beans)
By A Clove of Garlic, A Pinch of Salt
05/10/12 20:19
Let me tell you a thing or two about Brazilian men. No, wait, first let me tell you a thing or two I used to think about Brazilian men. Back in the day, when I was single and ready to mingle, my friend Querubia kept saying, "Let me take you to Brazil. The...
Add to my recipe book