Very Good Recipes of Dough from A Clove of Garlic, A Pinch of Salt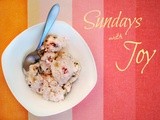 Sundays with Joy -- Strawberry Cookie Dough Ice Cream
By A Clove of Garlic, A Pinch of Salt
06/03/12 20:02
I made ice cream. Again. Two times, both really good, both without an ice cream maker. I feel like I am starting something good here... But let me back up for a moment. This week the group I am a part of had the task of making Joy the Baker's strawberry...
Add to my recipe book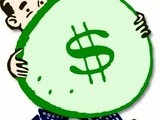 Rollin' in the Dough (The Green Kind)
By A Clove of Garlic, A Pinch of Salt
09/27/11 06:00
I don't know about you, but I kinda like money. Wait, never mind, I do know about you -- you like it, too. Now, before you get me wrong, I am not saying I am in love with it or need it for my happiness, but we must admit that the world we live in does run...
Add to my recipe book