Very Good Recipes of Crema from a cucina e mammà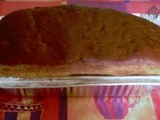 Millefoglie di babà con crema di ricotta e gocce di cioccolata per "Scelte di gusto"
By a cucina e mammà
04/15/13 00:09
L'ultimo atto del contest " Chef per un mese " di Tiziana del Blog Pecorella di marzapane consiste nel preparare una torta da dedicare al Giornale online di informazione e cultura enogastronomica " Scelte di Gusto " sponsor del contest. Ho pensato di preparare...
Add to my recipe book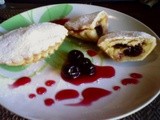 Bucchinotto del Cavalcanti, pasticcino crema e amarena dei giorni nostri
By a cucina e mammà
08/04/12 22:57
La letteratura napoletana è ricca di testi gastronomici dal "liber de coquina " di Anonimo della corte Angioina del 1300 a " Cucina teorico pratica di Ippolito Cavalcanti del 1837, passando per Vincenzo Corrado con il suo " Cuoco galante " del 1773. Ippolito...
Add to my recipe book
Calamarata di Gragnano con ciurilli su crema di zucchine
By a cucina e mammà
07/03/12 18:34
La calamarata è un formato di pasta di Gragnano appartenente alla famiglia dei paccheri. Gragnano è una cittadina in provincia di Napoli, situata nel cuore dei monti Lattari, dove dal XVI secolo si produce pasta Favorita dalla sua posizione geografica al...
Add to my recipe book