Very Good Recipes of Bean Salad from A Seasonal Cook in Turkey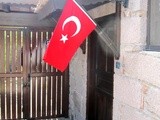 Yoğurtlu Börülce: An Aegean Green Bean Salad with Yogurt
By A Seasonal Cook in Turkey
08/30/13 14:38
Today is the 30th August, Zafer Ğünü or Victory Day: an important national holiday here commemorating the day the Turks drove the Greeks out at the Battle of Dumlupınar in Central Anatolia, in 1922. This outcome determined the overall outcome of the Turkish...
Add to my recipe book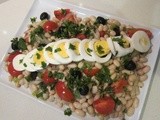 Piyaz: a Traditional Bean Salad
By A Seasonal Cook in Turkey
04/14/12 22:23
Piyaz For an authentic accompaniment to kuru köfte, the recipe for which is here , you should try piyaz. It's true you will see köfte everywhere served with chips, and garnished with a slice of red tomato and a green pepper, true harmony on a plate, but...
Add to my recipe book