Very Good Recipes of Börek from A Seasonal Cook in Turkey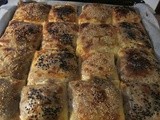 Patlıcanlı Böreği - Aubergine/Eggplant Borek
By A Seasonal Cook in Turkey
07/10/12 22:34
While we are on the subject of börek.... patlıcanlı böreğı or aubergine borek/pastries I was dying to try this one as I had a surfeit of eggplants in the fridge. Being a seasonal cook is all very well but it does mean you have to keep up with the fresh...
Add to my recipe book
Gül Böreği - 'Rose' Borek: Cheese & Parsley-filled Pastries
By A Seasonal Cook in Turkey
07/05/12 17:26
Gül böreği waiting to be baked in the oven I had asked my neighbour to get me 3 yufkas from the market but she came back with 5. Yufka is similar to filo pastry but tougher and more resilient. Filo can be used but because it's so much finer, it should be...
Add to my recipe book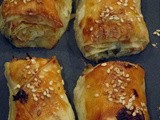 Soğanlı Çıtır Börek or Flaky Filo Pastries with Onion and Parsley
By A Seasonal Cook in Turkey
03/01/12 08:16
Flaky filo pastries with onion and parsley Börek- apart from sigara böreği - is something I have resolutely stayed away from all the years I've lived here and now I wonder why. Well, I do know why: they are so delicious, we'd put on kilos! But they are...
Add to my recipe book