Very Good Recipes of Herb from A Seasonal Cook in Turkey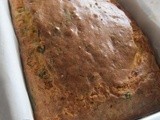 White Cheese (feta) and Herb Loaf - Beyaz Peynirli ve Otlu Kek
By A Seasonal Cook in Turkey
02/18/13 21:18
I've been doing rather a lot of gezzing recently. And what is this word 'gezzing' you may well ask: it originally comes from the Turkish verb, gezmek. Loosely speaking, it means to go around, to visit, to be out and about, and this is exactly what I have...
Add to my recipe book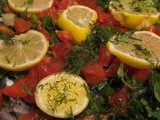 Hamsi Buğulama or Poached Black Sea Anchovies with Fresh Herbs
By A Seasonal Cook in Turkey
12/06/12 09:51
Now is the time to buy those hamsi or anchovies, delight of Turkey food lovers and staple of the local Black Sea cuisine . They are available everywhere in huge amounts glinting under the naked light bulbs which hang over the fish stalls here in Istanbul....
Add to my recipe book