Very Good Recipes of Köfte from A Seasonal Cook in Turkey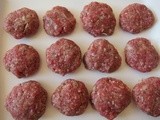 Cızbız Köfte or Sizzling Grilled Turkish Meatballs
By A Seasonal Cook in Turkey
09/22/13 18:42
No, I haven't just forgotten to dot my i's: this is the Turkish letter ı as opposed to i which produces a sound like schwa or -er in mother. The pronunciation is different but what is important here is that the c is j, so these köfte go by the wonderful...
Add to my recipe book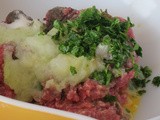 Kuru Köfte: traditional Turkish Köftes
By A Seasonal Cook in Turkey
03/14/12 15:25
good-quality mince is essential No self-respecting blog about Turkish food would be complete without a recipe for kuru köfte! The word kuru literally means dry when they are anything but. In fact they are rather moist with a crispy exterior! These particular...
Add to my recipe book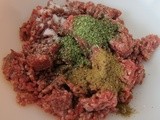 Izmir Köfte - casserole of meatballs, potatoes, tomatoes and peppers
By A Seasonal Cook in Turkey
02/07/12 08:38
It's all a question of ingredients Up until just a few days ago, Istanbul was in the grip of severe snow with crippling below zero temperatures. I am just back from summer in Oz so the contrast has been sharp. Something really Turkish and comforting for...
Add to my recipe book