Very Good Recipes of Olive Oil from A Seasonal Cook in Turkey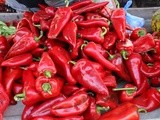 Stuffed Red Peppers: an Olive Oil-based Dish - Zeytinyağlı Kırmızı Biber Dolması
By A Seasonal Cook in Turkey
09/08/13 15:42
I expect you all know that life is too short to stuff a mushroom. Well, in all my time here in Turkey, I have stuffed more vegetables than I care to count but somehow never red peppers! What does that say about my life? mounds of red peppers at Ayvacık...
Add to my recipe book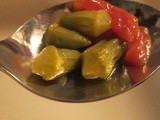 Zeytinyağlı Bamya - Okra or Lady's Fingers in Olive Oil
By A Seasonal Cook in Turkey
08/01/12 12:19
A spoonful of zeytinyağlı bamya or okra in olive oil Also known as lady's fingers for their long delicate shape. In Western Asia they are known as bamia or bamya. In fact the Arabic word for the plant is bamay so it's obvious where the Turkish name for...
Add to my recipe book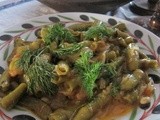 Broad Beans in Olive Oil - Zeytinyağlı Bakla
By A Seasonal Cook in Turkey
03/24/12 17:17
Broad beans in olive oil/zeytinyağlı bakla We are back in our Aegean village of Assos for the first time this year. All the neighbours are saying how bitterly cold it has been and the garden bears witness to that. Despite everything looking pretty bleak,...
Add to my recipe book