Very Good Recipes of Onion from A Seasonal Cook in Turkey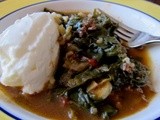 Spinach with mince and onion/Kıymalı Ispanak: an all-in-one Turkish favourite
By A Seasonal Cook in Turkey
01/26/14 15:44
I am quite surprised that I haven't featured this recipe before but I checked my past posts, I checked my files: no, apparently not. Why am I surprised? Well, for a start, it is one of my personal favourites let alone a very seasonal dish that you will...
Add to my recipe book
Roasted aubergine with fried onion & chopped lemon
By A Seasonal Cook in Turkey
10/14/13 21:44
I seem to have been stuffing and filling a lot of veggies recently, some with more success than others. It all depends on the quality of what you are stuffing and of course, on the the stuffing itself. There are so many variables, it makes you dizzy. Recipes...
Add to my recipe book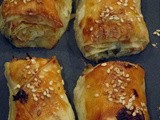 Soğanlı Çıtır Börek or Flaky Filo Pastries with Onion and Parsley
By A Seasonal Cook in Turkey
03/01/12 08:16
Flaky filo pastries with onion and parsley Börek- apart from sigara böreği - is something I have resolutely stayed away from all the years I've lived here and now I wonder why. Well, I do know why: they are so delicious, we'd put on kilos! But they are...
Add to my recipe book