Very Good Recipes of Quail from Alessandra Zecchini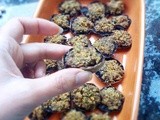 Stuffed mushrooms (pity they shrink so much!), Taste magazine, and a story about quail eggs and great service
By Alessandra Zecchini
11/08/12 23:08
When I started these mushrooms were three times this size (I used the 'breakfast' Portobello type) but never mind, the flavour was all there and this is a great way to cook them! Clean the mushrooms and remove the stalks (set them aside) and top skin if...
Add to my recipe book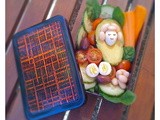 Salad bento with quail eggs and the big Avondale spider
By Alessandra Zecchini
03/29/12 03:12
Did you ever see the blog Cooking Gallery? It is on my blogroll and among my favourite blogs to visit because it is full of fantastic bento ideas! And my kids like it too, but they cannot really take proper decorated bentos to school, it is not practical...
Add to my recipe book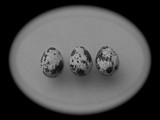 3 Quail Eggs
By Alessandra Zecchini
09/14/11 04:06
Today is Black and White Wednesday , organized by Susan of The Well-Seasoned Cook . My photo is: 3 Quail Eggs I am really busy cooking and baking for the book launch tomorrow, I will keep you posted, and hope to see some bloggers there. Please remember...
Add to my recipe book