Very Good Recipes of Almond and Strawberry
There are 3 Almond and Strawberry recipes on Very Good Recipes.
Do you like almond and strawberry recipes?

See all almond recipes or all strawberry recipes.
Click on the title of a recipe or the photo of a dish to read the full recipe on its author's blog.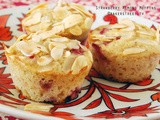 #MuffinMonday: Strawberry Almond Muffins
By Baker Street
03/11/13 11:44
As much as I love baking with strawberries, I always find it difficult to bake with it. No matter what you do you land up with squishy fruit in your finished product and I'm not a big fan of that. Unlike blueberries, even if they bleed a little they more...
Add to my recipe book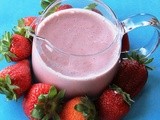 Strawberry and Almond - Naturally Pink
By Olive Oil Chic
02/22/13 05:16
And then some... Make your almond milk PINK and delicious naturally !!! Now that you know how to prepare your own homemade Almond Milk, it's time to experiment and have fun with flavor. Because tomorrow is Valentine's Day, wouldn't it be fun to serve those...
Add to my recipe book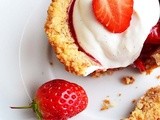 Strawberry Rhubarb Tarts with Almond Crusts
By Feasts for All Seasons
07/29/12 20:06
Nature is amazing. A big statement? Well, yes, but what else can you say? The whole planet is filled with natural marvels and miracles. Some are epic and majestic and obvious, others are minuscule and easily missed. For me, I find that growing things …...
Add to my recipe book