Very Good Recipes of Grilled from Amelia's De-ssert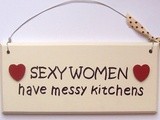 Grilled Calamari With Mango Salad
By Amelia's De-ssert
04/07/13 18:44
Calamari is a popular food in many parts of the world. A delicious yet simple recipe for grilled calamari, can be eaten as appetizer or main meal. Enjoy this tender grilled calamari version at home. Grilled Calamari 4 medium size calamari Seasoning ingredients...
Add to my recipe book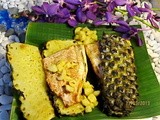 Pineapple Grilled Fish
By Amelia's De-ssert
03/17/13 18:02
This style of seafood dish compliments of my Canadian friend, Lee. He suggested to me how to grill fish he had tried before. He says eat this will see moon rise half hour early, see stars. Lee, thank you very much for this delicious and unique recipe. Pineapple...
Add to my recipe book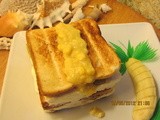 Grilled Banana Ice Cream Sandwich
By Amelia's De-ssert
06/19/12 19:43
I've been on ice cream making mood and mode lately. Recipe compliments from an oversea friend, this sandwich is a piece of heaven. This bread is soft and sweet yet crispy on the outside. Ice cream is to be eaten at a lusciously slow pace. This gives your...
Add to my recipe book