Very Good Recipes of Pumpkin Pie from Amy's Cooking Adventures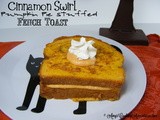 Cinnamon Swirl French Toast with Pumpkin Pie Filling
By Amy's Cooking Adventures
10/19/12 14:30
French Toast = Good Cinnamon Swirl French Toast = Better Above + Pumpkin Pie Filling = Mind Blowing ps - don't forget to link up to the Halloween Linky below! Cinnamon Swirl French Toast with Pumpkin Pie Filling Read more »Continue to the full recipe......
Add to my recipe book
Cheesecake Pumpkin Pie Truffles
By Amy's Cooking Adventures
11/25/11 19:00
So we're post-Thanksgiving. Are you stuffed? Can you think about more food yet? Have some leftover desserts, perhaps? Then do I have the recipe for you! There's no denying that I love truffles. So I took some of my favorite Thanksgiving (or Christmas or...
Add to my recipe book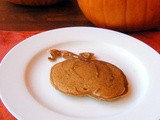 Whole Wheat Pumpkin Pie Pancakes
By Amy's Cooking Adventures
10/10/11 22:10
Pumpkin, pumpkin, pumpkin! I love pumpkin! I first made Pumpkin Pie Pancakes last year. They were great, but this year, I decided to remake the recipe and kick them up a notch. This year's edition of Pumpkin Pie Pancakes features 100% whole wheat and is...
Add to my recipe book