Very Good Recipes of Squash from Amy's Cooking Adventures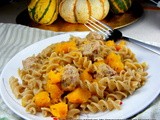 Naked Ravioli with Squash and Browned Butter Sauce
By Amy's Cooking Adventures
11/30/11 19:00
One of my family's favorite recipes is Naked Ravioli – the insides of the ravioli on the outsides kind of naked – not the call the health department kind. This time around, the Naked Ravioli got a cozy, warm, comfort food type of make over. Peas were swapped...
Add to my recipe book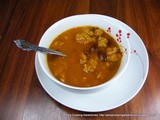 Squash & Turkey Chili
By Amy's Cooking Adventures
11/28/11 19:00
I was feeling a bit adventurous the other day and made an unconventional chili. Instead of a tomato base, I used a buttercup squash. It lent itself well to the chili, giving it a smooth, silky texture and a slight sweetness that paired well with the spiciness....
Add to my recipe book
Squash & Corn Chowder
By Amy's Cooking Adventures
09/06/11 05:06
It's September and my local Farmer's Market is booming! With my basket full of squash, corn, onions, potatoes, tomatoes, and jalapeños, I knew something wonderful needed to happen. When some cooler weather happened our way last week, I decided to make a...
Add to my recipe book