Very Good Recipes of Baked from An Organic Wife
Recipe: Baked Chocolate Glazed Donuts
By An Organic Wife
11/25/13 13:55
A few months ago, I bought a donut pan, and it's been a fun little thing to have around. Making donuts isn't as easy as you think; sure, making a donut shape is easy. A lot of donut recipes turn out like cake, but not like a cake donut. There is a difference,...
Add to my recipe book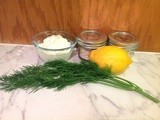 Recipe: Baked Halibut with Dill Sauce
By An Organic Wife
01/03/13 15:48
My husband is not always a fan of white fish, but I finally found a way to make it that he likes. It's simply baked in a cornmeal crust, which gives it a nice crunch and takes away the "floppiness" that makes it unappetizing to some people. You can substitute...
Add to my recipe book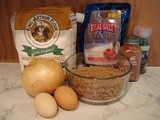 Recipe: Baked Onion Rings
By An Organic Wife
04/10/12 14:12
Do you want to know something funny? When I was growing up I hated onions. I refused to eat them in any form. Finally it got to the point where I could eat them if they were diced up really small in salsa. Then I started caramelizing them for recipes. And...
Add to my recipe book