Very Good Recipes of Black Pepper from ... and then, I ate it!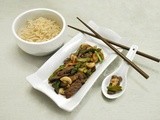 Black Pepper Steak with Shaved Asparagus and Mushrooms
By ... and then, I ate it!
01/02/12 18:56
This dish is so high-speed to make your family wouldn't believe how fast you call them to the table. As a bonus, I've included an equally quick recipe for Sesame Seed Ramen Noodles a great accompaniment to this fiery beef dish. You'll find that recipe below...
Add to my recipe book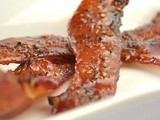 Black Pepper Candied Bacon ... a dedication
By ... and then, I ate it!
11/18/11 17:46
One year ago today my Father-in-law passed away from cancer. That day, our little corner of the world lost its Hero. I truly mean that. There is a huge hole left in our lives. Our Hero is gone. He was a man of men. Respected. A man of honour and of his...
Add to my recipe book