Very Good Recipes of Red from Artful Gourmet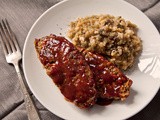 Healthy Homestyle Meatloaf w/ Ancho Chile-Red Pepper Glaze :: Wild Mushroom Risotto
By Artful Gourmet
11/17/13 23:21
Preparation: 30 min - Cooking: 1h OK, so I know Meatloaf is one of those dishes we're all a little bored of by now. Not so glamorous or gourmet, and usually a quick go-to dish when we have nothing else in the fridge and want to make an easy dinner with a few ingredients on hand. Well that...
Add to my recipe book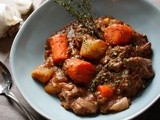 Bistro-Style Beef Stew w/ Red Wine, Smoked Paprika and Orange Zest
By Artful Gourmet
01/28/12 22:07
On a recent excursion to Williams-Sonoma, I discovered some lovely braising bases that piqued my interest. I wanted to make a hearty beef stew and thought the Beef Stew Braising base would be a perfect starter for my masterpiece. This hearty blend of ripe...
Add to my recipe book