Very Good Recipes of Beef and Sweet
There are 3 Beef and Sweet recipes on Very Good Recipes.
Do you like beef and sweet recipes?

See all beef recipes or all sweet recipes.
Click on the title of a recipe or the photo of a dish to read the full recipe on its author's blog.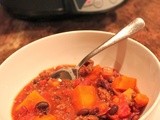 Crock Pot Sweet Potato Turkey (or Beef) Chili and Garlic Cheddar Beer Biscuits
By What is Baking in the Barbershop?!
01/26/14 18:47
Are you experiencing the same frigid winter temperatures that we're experiencing in Boston (aka Polar Vortex 2)? If so, this slow cooker chili is for you! Side note: as I just typed, "slow cooker," I actually typed "cookie" instead of cooker. Guess cookies...
Add to my recipe book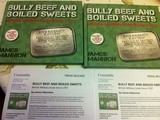 Book Review and giveaway, Bully Beef and Boiled Sweets by James Mannion
By foodgloriousfood
12/14/13 17:47
Bully Beef and Boiled Sweets, British Military Club since 1707 is the first cookbook by journailst, James Mannion. Many thanks to Constable and Robinson for my review copy. This is a very unique and eccentric cook book as it focuses upon food that was cooked...
Add to my recipe book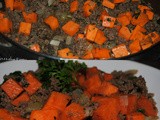 Ground Beef and Sweet Potato Hash from Harvest Your Health
By Mother Rimmy
10/08/13 15:29
As promised, this week I'm sharing recipes from the Harvest Your Health eBook Collection, and this easy Paleo Ground Beef Hash with Sweet Potatoes is first in the lineup. It's been a ton of fun reading books from authors whose passion for healthy living...
Add to my recipe book