Very Good Recipes of Artichoke from BloggingOverThyme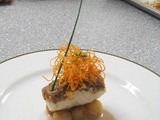 Day 49: Halibut, Stuffed Artichokes & Banana Flambé
By BloggingOverThyme
03/30/12 03:50
Today was jam packed! It was also full of some of the best dishes of Phase II and I must agree, they were all delicious. Due to pure exhaustion, I'm going to keep the details down to a minimum, but if you're curious about anything, don't hesitate to ask...
Add to my recipe book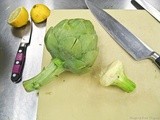 Day 24: Artichoke Salad, Chasseur, & Napoleon
By BloggingOverThyme
02/16/12 03:58
Right now, I'm sitting in bed, fighting off sleep, but attempting to keep my eyes open in an effort to tell you all about yesterday's class! I try to stay on top of my posts as much as possible, because I remember so many more details if I post immediately...
Add to my recipe book