Very Good Recipes of Mousses from BloggingOverThyme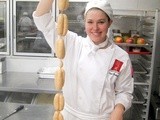 Day 60: Sausage, Poulet Basquaise, & Chocolate Mousse
By BloggingOverThyme
04/19/12 01:03
Today was another busy day in the kitchen! I still can't believe we are already nearly a month into Phase II. These next two months are going to fly by and before I know it, I will be starting my externship (ahh!). Our first course today was seafood sausage...
Add to my recipe book
Day 36: Braised Rabbit, Chicken mousse & Tiramisu
By BloggingOverThyme
03/08/12 02:38
So glad that you all enjoyed my latest post about our field trip to Ayrshire Farm last week! And now back to regular programming! I've love to say that yesterday's class was filled with delicious creations, but I would be lying. It was bound to happen at...
Add to my recipe book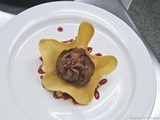 Day 35: Braised Lamb Shanks, Gnocchi, & Chocolate Mousse
By BloggingOverThyme
03/06/12 00:04
I can't believe that today marked three weeks until we officially start Phase II of my culinary program! Insane, to say the least, and something that will creep up on us way too soon, I'm sure. Ok, enough about that… On to today's menu! The whiteboard greeted...
Add to my recipe book