Very Good Recipes of Macadamia from bobbie's baking blog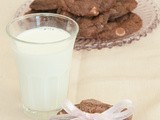 Triple Chocolate Chunk Macadamia Cookies
By bobbie's baking blog
04/11/12 21:06
Anyone who has children is familiar with the book "If You Give a Mouse a Cookie" well DF, my husband is a mirror of that little mouse when it comes to chocolate cookies. His absolute favorite cookie is a soft triple chocolate chip cookie, to cut some of...
Add to my recipe book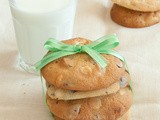 Macadamia Double Chocolate Chunk Cookie-Cake
By bobbie's baking blog
03/23/12 01:55
Wow, I think this is the longest amount of time I have been away from my blog. Sydney utilized her spring break to visit the colleges she wants to transfer to, NYU, Goerge Washington University, and Georgetown University. I never knew visiting three colleges...
Add to my recipe book