Very Good Recipes of Truffles from bobbie's baking blog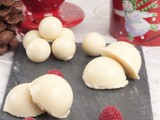 White Truffles with Cassis-Framboise Ganache, Baby Let It Snow
By bobbie's baking blog
12/22/11 05:29
Truffles are one my favorite guilty pleasures; in fact Sydney was barely walking when I gave her first truffle. She adored the truffles so much she shared a truffle with my closest nephew. She proclaimed they were to die for and he must try one. My nephew,...
Add to my recipe book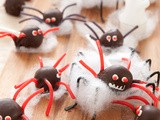 Creepy Crawling Halloween Truffle Creatures
By bobbie's baking blog
10/27/11 00:49
I am going to take a moment to show you what I woke up to this morning, and due to the drastic drop in the barometric pressure I have a migraine. Thank goodness chocolate has caffeine and caffeine helps migraines…guess what I am snacking on… While dipping...
Add to my recipe book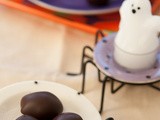 Trick or Truffle, Halloween Chocolate Coated Dulce de Leche Truffles
By bobbie's baking blog
10/26/11 07:03
I mentioned in the last post this week has had a rocky start, to say the least, I wish I could report that it has leveled a bit, however today was pretty chaotic as well, a snow storm has decided to visit us, every appointment we had today ran 15 minutes...
Add to my recipe book