Very Good Recipes of Mousses from Building Buttercream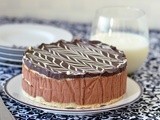 Chocolate Mousse Mille-Feuille (Daring Bakers' Challenge)
By Building Buttercream
10/27/12 18:27
It's October 27th! That means it's time for another Daring Bakers' Challenge. This month's challenge was to create something called mille-feuille, which means "thousand sheets" in French. The reason this is called "thousand sheets" is because the buttery...
Add to my recipe book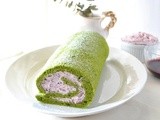 Green Tea Roll Cake with Cherry Mousse Filling
By Building Buttercream
04/09/12 06:17
Finally, a sunny spring weekend in Seattle. I guess we had some sun two weeks ago, but I was in California (where it rained). I was pretty busy enjoying the weather, and didn't spend too much time in the kitchen (at this point, I'm so vitamin-D starved...
Add to my recipe book