Very Good Recipes of Family from Carmen's Kitchen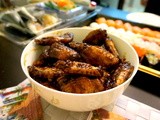 Cousin Deacon's Soy Sauce Chicken Wings Recipe: Continuing The Family Cooking Fun
By Carmen's Kitchen
04/24/13 05:10
Cooking and eating together is important for the well-being of a family. Sharing a meal strengthens the family bond. The times that you spend together at meals are memories that will last forever.I am very grateful to be blessed with two very close families...
Add to my recipe book
California Wedding: a Real Barn Burner With Family, Friends And Food
By Carmen's Kitchen
05/28/12 23:50
As some of you may have noticed, I've been away from this blog for a little while, and there is a reason. My hubby and I were on a very special holiday in California the last 10 days. We were there for our long awaited wedding party (We registered in NYC...
Add to my recipe book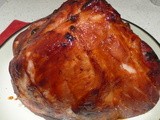 Honey Glazed Ham With Crackling Recipe: Family Dinner Doesn't Get Any Easier
By Carmen's Kitchen
01/14/12 08:18
I love to roast ham, its so much easier than chicken or turkey. You just chuck it in the oven and you can forget about it for a hour or two. It's also inexpensive and even a half portion can feed the whole family with leftovers. Anything that is left over...
Add to my recipe book