Very Good Recipes of Honey from Carmen's Kitchen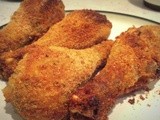 Honey Baked Chicken Drumsticks Recipe: Easy Baked Chicken With a Sweet Kick
By Carmen's Kitchen
04/19/13 04:47
This week I am featuring a quick and easy recipe, and to be honest, this is a last minute raid-the-fridge recipe! It was created with on-hand ingredients during a quick weeknight experiment! The results were so good, I needed to share it with you guys!...
Add to my recipe book
Anderson's Honey Cinnamon Walnut Butter Recipe: Made With Love
By Carmen's Kitchen
06/20/12 04:24
Since our wedding at the beautiful Anderson Barngrover family walnut ranch in California, I have been inspired to create a recipe using Walnuts. As well as being very tasty, w alnuts are good for you. They help you to feel better and look better too! Recent...
Add to my recipe book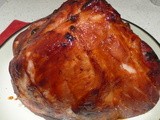 Honey Glazed Ham With Crackling Recipe: Family Dinner Doesn't Get Any Easier
By Carmen's Kitchen
01/14/12 08:18
I love to roast ham, its so much easier than chicken or turkey. You just chuck it in the oven and you can forget about it for a hour or two. It's also inexpensive and even a half portion can feed the whole family with leftovers. Anything that is left over...
Add to my recipe book