Very Good Recipes of Pan from Carmen's Kitchen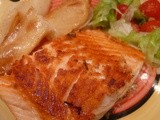 Pan Fried Un-Skinned Salmon Fillets: Low Stress Healthy Fish Dish
By Carmen's Kitchen
Subscribe
03/29/12 05:20
It is hard to go wrong with salmon and it is a favorite fish dish for many. Salmon is one of those super foods that is delicious and good for you, meaty, juicy, high in Omega-3 and protein and yet low in calories and saturated fat. This lovely pink fish...
Add to my recipe book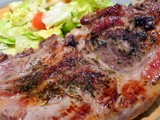 Rosemary And Oregano Pan-Fried Lamb Chops: 10 Minute Delicious And Nutritious
By Carmen's Kitchen
Subscribe
01/26/12 06:16
Chicken is a regular of our dinner table and that's perfectly fine by us. That said, lamb has always been my favorite meat and we don't enjoy it nearly enough. These easy lamb chops are perfect for a quick dinner. I like to cook my lamb chops quickly in...
Add to my recipe book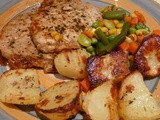 Pan-fried Pork Chops, Roasted Potatoes And Mixed Veggies Recipe : Home Comfort
By Carmen's Kitchen
Subscribe
01/14/12 08:28
Having grown up in England, I have developed a special liking for all the hearty British pub grub, especially Sunday roasts .When I moved back to Hong Kong, where full-size ovens are not commonly present in kitchens I discovered an alternative way of making...
Add to my recipe book