Very Good Recipes of Pork from Carmen's Kitchen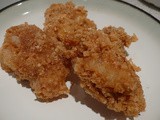 Crispy Fried Fish a La...Pork Rind? No Seriously
By Carmen's Kitchen
08/02/12 18:05
Since I went on a low carb diet, I've been doing a lot of research on low carb recipes. So when I heard about using pork rind crumbs as a no-carb breading for fried chicken, pork and fish , I couldn't wait to try it! Like many people I have always thought...
Add to my recipe book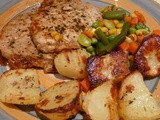 Pan-fried Pork Chops, Roasted Potatoes And Mixed Veggies Recipe : Home Comfort
By Carmen's Kitchen
01/14/12 08:28
Having grown up in England, I have developed a special liking for all the hearty British pub grub, especially Sunday roasts .When I moved back to Hong Kong, where full-size ovens are not commonly present in kitchens I discovered an alternative way of making...
Add to my recipe book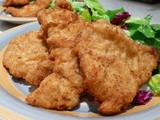 Breaded Pork Cutlet With Salad Recipe: Crispy And Juicy Game-Day Recipe
By Carmen's Kitchen
01/14/12 08:25
Everybody loves Breaded Pork Cutlets (except maybe Vegans, their loss), the Japanese have their Tonkatsu, the Italian have their Cotolette Milanese , while the Viennese have Schnitzel. It is very easy to recreate this world famous dish at home, the ingredients...
Add to my recipe book