Very Good Recipes of Salad from Carmen's Kitchen
Hear! Hear! Jubilicious Coronation Chicken Salad Recipe
By Carmen's Kitchen
Subscribe
06/02/12 06:18
This weekend is the Queen's Diamond Jubilee: A celebration of Queen Elizabeth of England 's 60th year on the throne. I was born in British Colonial Hong Kong and grew up in Britain, so the image of Queen Elizabeth II is as familiar to me as a family member....
Add to my recipe book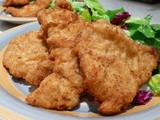 Breaded Pork Cutlet With Salad Recipe: Crispy And Juicy Game-Day Recipe
By Carmen's Kitchen
Subscribe
01/14/12 08:25
Everybody loves Breaded Pork Cutlets (except maybe Vegans, their loss), the Japanese have their Tonkatsu, the Italian have their Cotolette Milanese , while the Viennese have Schnitzel. It is very easy to recreate this world famous dish at home, the ingredients...
Add to my recipe book