Very Good Recipes of Spanish from Carmen's Kitchen
Spanish Potato Omelet: Its All About...The Flipping
By Carmen's Kitchen
Subscribe
03/02/12 04:42
A Spanish Potato Omelet, or Tortilla Española, can easily be described as the national dish of Spain. It has nothing to do with Mexican tortillas, the only thing these two have in common is their round sha pe. This is one of my all time favorite Spanish...
Add to my recipe book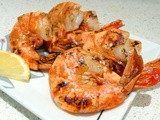 Gambas a La Plancha 'Grilled King Prawns': Easy Authentic Spanish Tapa
By Carmen's Kitchen
Subscribe
02/01/12 04:45
While Japan is the best place in the world to eat raw seafood, Spain is definitely the best place to eat cooked seafood. The long coastline of Spain ensures fresh seafood is a main element of Spanish diet. My all-time favorite is 'Gambas a la Plancha',...
Add to my recipe book