Very Good Recipes of Bar from Celebration Generation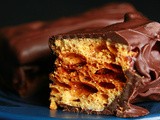 Homemade Crunchie Bars
By Celebration Generation
08/31/12 16:15
Wow, it's been a while since I've posted – sorry about that! Things have been utterly insane around here. We're still working on tornado repairs. We got our walnut back from the mill, and are about to start working on building kitchen cabinet doors, etc....
Add to my recipe book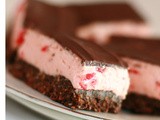 Maraschino Cherry Nanaimo Bars Recipe
By Celebration Generation
10/07/11 22:06
Happy Thanksgiving to my fellow Canadians! I am getting a little green eyed, hearing and reading about all of the yummy food you guys are planning to snarf this weekend. Plus, I mean… long weekend! Could *totally* use one of those, but we're gonna be busting...
Add to my recipe book