Very Good Recipes of Christmas from Checky's Kitchen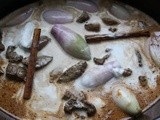 A Christmas Curry
By Checky's Kitchen
01/31/12 22:09
I seem to have overindulged on Christmas Cooking Specials this year. Thankfully, I have always managed to miss them before, too busy dealing with the kids and Christmas and cooking, I suppose. Yesterday, however I watched what seemed like several hours...
Add to my recipe book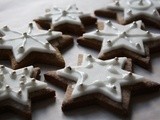 Christmas Stars
By Checky's Kitchen
01/10/12 13:40
I have just returned from my son's lastNativity play. His last one ever andrather than feel sad, I am just so relieved. I don't think I could take another year of seeing him cast as ashepherd, with a no-speaking, no-action part, yawning and fidgeting in...
Add to my recipe book