Very Good Recipes of Chicken broth
There are 3 Chicken broth recipes on Very Good Recipes.
Do you like chicken broth recipes?

Click on the title of a recipe or the photo of a dish to read the full recipe on its author's blog.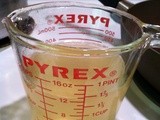 Slow-Cooker Chicken Broth
By In the kitchen with Kath
12/31/12 01:54
I have a perfectly good 3½ quart slow cooker that I have had for a long time. It still works great, and I have some recipes that are perfect for the smaller size. However, I found there were times when I would like to have a larger slow cooker. So, I recently...
Add to my recipe book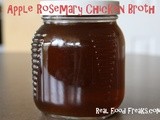 Apple Rosemary Chicken Broth
By Real Food Freaks
11/12/12 00:30
Because I have a 'beaucoup' of apples (they're in season, ya know?) I decided to try making a broth flavored with apples. Rosemary pairs well with chicken and apples so I threw several sprigs of that in the pot as well. Why would you want to make broth...
Add to my recipe book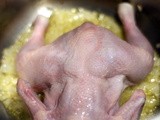 Spotlight: The Evils of Maggi (and Recipe for Chicken Broth)
By MidEats
10/18/11 08:47
Travelling through Egypt this past summer introduced me to some amazing foods. However, it also introduced me to Maggi. Every single time (and I am not exaggerating) I asked someone for a recipe of a dish we just devoured, it included a Maggi cube. GULP....
Add to my recipe book