Very Good Recipes of Gelato from Cocogianni o cuocogianni?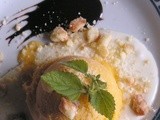 Gelato alla zucca su letto di namelaka
By Cocogianni o cuocogianni?
07/22/12 21:56
Non avevo in programma un altro gelato per l'MTC di luglio però, quando ho saputo che questa domenica eravamo stati invitati a pranzo dai nostri amici Daniela e Andrea ho detto subito: "Il dessert lo preparo io!" Visto che Daniela adora la zucca e, in particolare,...
Add to my recipe book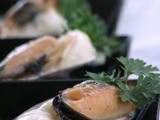 Cozza con il suo gelato
By Cocogianni o cuocogianni?
07/15/12 20:42
Fin da ragazzo mi è sempre piaciuto, quando se ne presentava l'occasione, fare qualche scherzo agli amici. Sarà che non ne ho mai abusato, sarà che ho sempre avuto la nomea della persona fin troppo seria, sarà che da me non se lo aspettano, sarà che riesco...
Add to my recipe book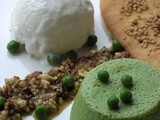 Budino salato ai piselli con gelato al gorgonzola, cialda di grissino al sesamo e pesto di nocciole
By Cocogianni o cuocogianni?
05/20/12 16:44
Gennaio 1996. Era l'ultima sera di una splendida vacanza di due settimane a Varadero - Cuba che mi era stata regalata dal mio amico Mauro. La prima settimana l'avevamo trascorsa insieme ad altri 4 amici di Mauro mentre la seconda eravamo rimasti noi due....
Add to my recipe book