Very Good Recipes of Robiola from Cocogianni o cuocogianni?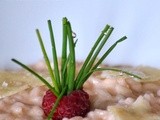 Risotto ai lamponi e robiola per unlamponelcuore
By Cocogianni o cuocogianni?
03/09/14 00:28
Con questa iniziativa, i food blogger che aderiscono a "unlamponelcuore" intendono far conoscere il progetto "lamponi di pace" della Cooperativa Agricola Insieme (http://coop-insieme.com/),nata nel giugno del 2003 per favorire il ritorno a casa delle donne...
Add to my recipe book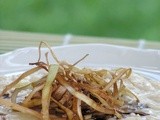 Risotto con porri e robiola
By Cocogianni o cuocogianni?
07/25/12 12:17
Questa volta è stato veramente difficile scegliere con che ricetta partecipare al Recipe-tionist di questo mese perchè tra le tante presenti nel blog Un'arbanella di basilico, sono molte quelle che mi ispirano e che incontrano i miei gusti. Alla fine la...
Add to my recipe book