Very Good Recipes of Chicken from Cook Food. Mostly Plants.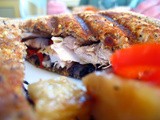 Leftover Roasted Chicken Panini with Peppers and Caramelized Onion
By Cook Food. Mostly Plants.
11/27/11 20:35
Thanksgiving always raises a multitude of deep and important questions. Should the turkey be stuffed or unstuffed? Six side dishes or seven? Pumpkin pie or pecan? Why are the neighbors putting up Christmas lights before Thursday, and if they're planning...
Add to my recipe book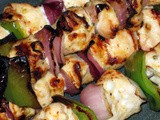 Grilled Veggies and Chicken over Quinoa
By Cook Food. Mostly Plants.
06/17/11 07:19
Hey guess what? It's summer. I'm not quite sure how it happened, but it's clearly high time we put things on skewers and grilled them. Also, just in case you've been pining for new ways to express your support for the blog, voila: Visit this website, and...
Add to my recipe book