Very Good Recipes of Wine from Cook Food. Mostly Plants.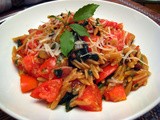 Orzotto with Ripe Tomatoes, Bacon, and Red Wine
By Cook Food. Mostly Plants.
09/10/12 17:15
I am not fanatically obsessed with bacon. Watch. I will talk about other things. Spinach. Mushrooms. Tomato. Bac....bacalao. Yes. The fish. And bac...ardi. See? Lots of other things on my mind. This recipe just happens to have bacon in it. Incidentally....
Add to my recipe book
Black Cod in a White Wine Butter Sauce
By Cook Food. Mostly Plants.
12/10/11 05:28
Don't judge. Just listen. There's this whole world out there. We talk of Aztec spinach and dandelion greens, investigate the optimal roasting conditions for kale, rehabilitate beets, but what's a paltry reconnaissance of a single vegetable compared to this?...
Add to my recipe book