Very Good Recipes of Raw from cookbookjaleela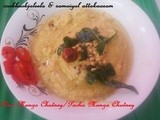 Raw mango Chutney - Pacha Manga Chutney
By cookbookjaleela
10/29/14 06:24
Kerala Special Manga Chutney/Raw Mango Chutney/Pacha Manga Chutney Ingredients Raw Manga – 1 Fresh coconut – ¼ cup Whole red chilli – 3 ( depends on your spice level) Small onion – 3 Salt – to taste Ginger – small piece Garlic – 1 pod For tempering Mustard...
Add to my recipe book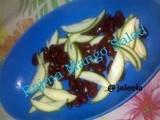 Ramja (Red Kidney Bean) with Raw Mango Salad
By cookbookjaleela
02/27/13 13:23
Health Benefits of Kidney Beans- Rajma Kidney bean (aka common beans) is a highly nutritious variety of herbaceous plant that is very popular in countries. Kidney beans are known for their high folate, protein and mineral content. Consumption of kidney...
Add to my recipe book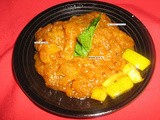 Mango and Raw Mango Thokku
By cookbookjaleela
04/14/12 11:10
Mango and raw mango thokku: Sour Raw Mango – 1 Sour Mango (fruit) – 2 Methi seed (Fenugreek) ½ tspn (dry roasted and powdered) Red chili powder – 1 tbspn Jaggery – 1 tbpsn Salt – ½ tspn (or as needed ) For tempering: Gingelly oil (also known as Sesame oil)...
Add to my recipe book