Very Good Recipes of Chili from Cooking with Barry & Meta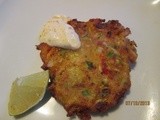 Garden Fritters . . . zucchini, onion & red pepper w/ lime-chili mayo
By Cooking with Barry & Meta
07/20/13 02:32
Before the squash bugs attack, we are determined to find interesting ways to use our now abundant supply of zucchini. This recipe fit the bill! According to the dictionary, fritter is a name applied to a wide variety of fried foods, usually consisting of...
Add to my recipe book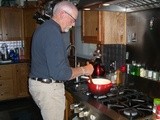 His Chili - Barry's version
By Cooking with Barry & Meta
11/04/11 18:23
Barry adds more liquid to his chili (than I do) giving it more of a thickened soup-like consistency. And, he even wrote down the ingredients (well, kind of ) as he prepared this batch. Hit the spot on a chilly fall evening and the freshly grated cheese...
Add to my recipe book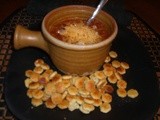 Her Chili – Helen Frieze's Recipe
By Cooking with Barry & Meta
10/13/11 19:11
Helen's Chili topped with cheese and onions; served with Seasoned Crackers. By the way, this is one of Barry's hand-thrown pottery soup bowls. You might say we have "his and her" chili at our house. When it's my turn to make it, I pull out Helen Frieze's...
Add to my recipe book