Very Good Recipes of Gravy from Cooking with Barry & Meta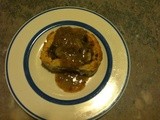 Meat Rolls . . . biscuit dough filled with meat & cheese and topped with a meat gravy
By Cooking with Barry & Meta
02/06/14 03:33
These savory meat rolls are prepared and assembled much like cinnamon rolls — biscuit dough is rolled into a rectangular shape and topped with meat and cheese; this is rolled up, cut into savory spirals, baked, and then topped with a meat gravy. We're snowed...
Add to my recipe book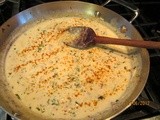 Adding Adding the Garden to the Gravy — Herbed Sausage Gravy
By Cooking with Barry & Meta
07/06/12 23:40
There was extra milk and a pound of sausage so it goes without saying that sausage gravy quickly came to mind. But, I wanted to "kick it up a notch" so here's what I did – chopped a bunch of fresh herbs, pulled an onion from the garden, and heated up the...
Add to my recipe book