Very Good Recipes of Meatloaf from Cooking with Barry & Meta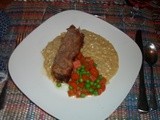 #1 Rating - Colette's Meatloaf
By Cooking with Barry & Meta
01/24/12 00:54
Colette's Meatloaf on top of cheesy orzo pasta, with peas and carrots. The quest for the "best" meatloaf may be over! We really liked the Glazed Meatloaf that I posted last fall. But when our nephew and his wife were here, Colette (West) was telling me...
Add to my recipe book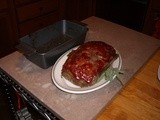 Quest for the Perfect Meatloaf
By Cooking with Barry & Meta
10/24/11 15:42
Thoughts on Meatloaf Wish I had Barry's mother's recipe for meatloaf. Unfortunately she is gone and her recipe box has disappeared. However, chances are that even if I did have her recipe, my rendition would never measure up to hers – just can't capture...
Add to my recipe book