Very Good Recipes of Roll from Cooking with Barry & Meta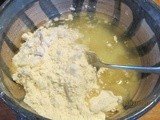 Vicky's No-Roll Pie Crust + an easy fruit pie topping
By Cooking with Barry & Meta
08/05/13 18:47
Vicky Chamberlin shared these two recipes in my July 30, 2013 cooking column that appears monthly in the AbileneReflector Chronicle . I tasted the crust when I did the interview and it was so good that I couldn't wait to taste it. Since the crust requires...
Add to my recipe book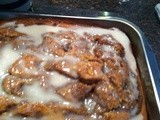 Cinnamon Roll Cake
By Cooking with Barry & Meta
04/05/13 07:35
For over a week I have been thinking about this recipe. As I weighed the pro (it sounds really, really good) against the cons (3 sticks of butter – Really! This is not something we need to be eating. It has way too many empty calories.), it was immediately...
Add to my recipe book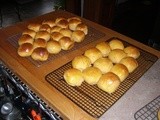 Yummy Yam Rolls
By Cooking with Barry & Meta
11/23/11 02:20
After coming out of the oven, I brushed the rolls with soft butter. Technically the title for this recipe should be Sweet Potato Rolls. However, Yummy Yam Rolls is just so catchy that I'm leaving it as is. (For the differences between a yam and sweet potato,...
Add to my recipe book