Very Good Recipes of Tarts from Cooking with Barry & Meta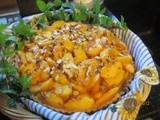 One of my favorite desserts – Fresh Peach Tart
By Cooking with Barry & Meta
08/17/12 17:19
The best thing about this tart is fresh peaches! It is actually a slight variation of the Hays House pie and is a wonderful way to celebrate summer! Rather than making a pie, I increased the recipe to fit into a 10 ½ " tart pan, added some chopped almonds...
Add to my recipe book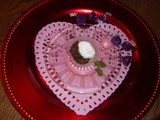 In the Kitchen with Duncan Hines-- Taffy Tarts
By Cooking with Barry & Meta
02/08/12 03:02
These are really good! I'm making them for my Literary League program on Duncan Hines. And, of course I had to taste one or two or . . . just to make sure they were edible. Even Duncan Hines contributed a few of his favorite recipes in his original 1939...
Add to my recipe book