Very Good Recipes of Strawberries from Crunchy Creamy Sweet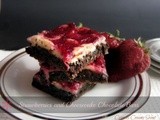 Strawberries and Cheesecake Chocolate Bars
By Crunchy Creamy Sweet
Subscribe
05/02/12 18:47
April showers bring May flowers. Or so they say. For me they brought mud. Highly attractive to kids. I know, because it is ALL OVER THE SIDE OF MY HOUSE! Yep, the back of the house has artistic splatters of mud on it. Authors: my two daughters. Effect:...
Add to my recipe book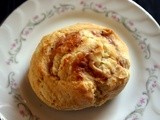 Sweet Rolls with Roasted Strawberries and Cream Cheese Filling
By Crunchy Creamy Sweet
Subscribe
04/06/12 18:06
I love to make special breakfasts for holidays. It gives you energy to enjoy the day and not just think when will the dinner be ready. Having three kids, I have a lot to get ready everyday - but on holidays there is just so much more. That's when the breakfast...
Add to my recipe book