Very Good Recipes of Milk from Cuisine Delights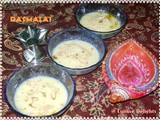 Rasamalai (Rasagullas in Sweetened Milk and Nuts) – Sweets for Diwali Eve
By Cuisine Delights
11/13/12 08:32
Rasmalai or Rasamalai is an all time favorite sweet for all festive seasons, especially Diwali. Rasmalai is a rich indian delicacy, The spongy and mildly sweet paneer balls dunked in the richness of milk, with the slight flavour of sugar syrup, creaminess...
Add to my recipe book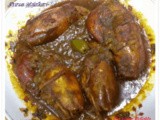 A famous bengali delicacy : Chingri Macher Malaikari ~ Prawn Malaikari(Prawn cooked in coconut milk)
By Cuisine Delights
11/15/11 10:49
Last week I spent time with my parents and enjoyed the foodstuff that is prepared by my Mom. I would like to share with you the entire amazing Bengali traditional dish "Chingri Malaikari" or "Prawn Malaikari". I have grown up the East Indian State (West...
Add to my recipe book