Very Good Recipes of Soup from Cuisine Delights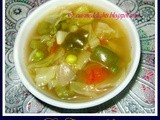 Diet Cabbage Soup
By Cuisine Delights
09/06/13 11:30
A fat-free low calorie nutritious diet soup it is also called miracle soup. Cabbage is a low calorie, fiber-rich leafty vegetable. I tried this recipe from Sanjeev Kapoor's Khana Khazana show, one of the most popular shows on Zee TV. This can easily served...
Add to my recipe book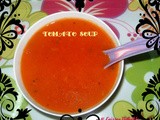 Tomato Soup
By Cuisine Delights
11/21/12 10:24
Tomato soup is a soup made with tomatoes as the primary ingredient. I love soup at any time of the year but particularly in winter.I could say it's a comfort food on cold winter mornings as they warm up from inside. It may be smooth in texture, and there...
Add to my recipe book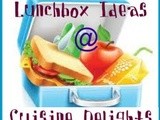 Vegetable Corn Soup
By Cuisine Delights
03/26/12 07:26
Sweet corn soup is very tasty and easy to make. This vegetarian soup is a fat free. The delicate flavour of corn makes this soup a favourite of many people. The vegetable soup variation adds a lot more nutrients. Ingredients : Fresh Corn - 1/2 cup French...
Add to my recipe book