Very Good Recipes of Chorizo from Diana's Cook Blog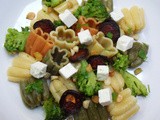 Pâtes italiennes (calici tricolore) avec brocoli, chorizo, amandes et feta
By Diana's Cook Blog
11/09/12 14:59
Depuis longtemps, nous avons pris l'habitude de ramener des souvenirs et des cadeaux comestibles de nos voyages, et notre fille ne fait pas exception à cette habitude. De son séjour à Grenoble, elle nous a amené ces jolies pâtes italiennes, des calici tricolore....
Add to my recipe book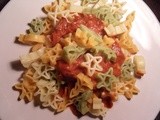 Pâtes de Noël à la sauce tomate, poivron et chorizo
By Diana's Cook Blog
12/29/11 11:19
Peut-on manger des pâtes pour les fêtes de Noël ? Pourquoi pas, si ce sont des pâtes de Noël ! Festives avec leurs formes et couleurs suggestives, elles ont également une très bonne teneur à la cuisson qui leur permet d'égayer les assiettes. On peut aussi...
Add to my recipe book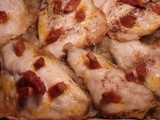 Filets de daurade royale au chorizo et fenouil confit
By Diana's Cook Blog
12/07/11 18:33
La Saint Nicolas est fêtée aussi en Bulgarie, mais dans un tout autre contexte que celui que l'on connaît par ici. Dans la tradition orthodoxe, Saint Nicolas, souverain des mers et des cours d'eau, est le saint patron des pêcheurs. C'est aussi une grande...
Add to my recipe book