Very Good Recipes of Légumes from Diana's Cook Blog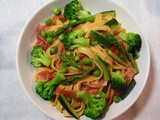 Pâtes aux légumes de printemps, sauce tomate et jambon sec
By Diana's Cook Blog
05/02/12 16:57
Ce que j'aime le plus chez les pâtes, c'est leur incroyable versatilité. Leur capacité à être accommodées à l'infini est une qualité aussi appréciable que la multitude des formes sous lesquelles elles sont déclinées et le fait qu'on peut aisément les garder...
Add to my recipe book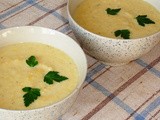 La soupe aux poireaux, oignons et pommes de terre de Delia Smith, avec bouillon de légumes maison
By Diana's Cook Blog
01/07/12 18:29
C'est l'une des recettes favorites de Delia Smith, et l'une de nos soupes préférées de cet hiver. Très facile à préparer, elle exige peu d'ingrédients et est très goûteuse ! Je n'ai pas fait beaucoup de changements, à part d'utiliser un bouillon de légumes...
Add to my recipe book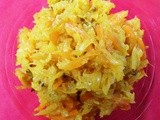 Achards de légumes
By Diana's Cook Blog
11/24/11 18:47
D'origine indienne, les Achards qui viennent du sub-continent sont plus épicés, alors que ceux qui sont communs sur l'Ile de Réunion sont moins complexes. Ils ravivent les plats pas très aromatiques et conviennent très bien au riz blanc. Essayez-les aussi...
Add to my recipe book