Very Good Recipes of Orange from Diana's Cook Blog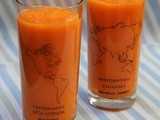 Smoothie carotte-orange-gingembre
By Diana's Cook Blog
03/17/14 11:58
Voici mon autre smoothie préféré parmi ceux que j'ai essayés à l'occasion du concours « Jus & Smoothies » (vous pouvez voir les conditions ici et participer jusqu'au 31 mars 2014). La carotte et l'orange vont bien ensemble. La carotte est riche en provitamine...
Add to my recipe book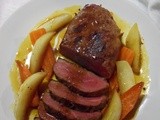 Magrets de canard à l'orange
By Diana's Cook Blog
03/01/13 16:33
Comme je l'ai déjà raconté, j'ai acheté récemment quelques beaux magrets de canard (il y avait des promotions à ne pas laisser passer). Et voilà que j'ai préparé cet autre grand classique du patrimoine culinaire français : le canard à l'orange. Enfin, dans...
Add to my recipe book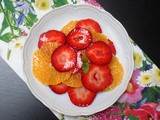 Salade de fraises et oranges au sirop de menthe
By Diana's Cook Blog
05/06/12 00:00
Le printemps est déjà bien installé, mais la fraicheur se fait toujours sentir dans l'air. De ce fait, nous profitons des fraises printanières, sans vouloir délaissez totalement les oranges, nos alliés vitaminés contre le froid de la saison hivernale. Ceci...
Add to my recipe book