Very Good Recipes of Banana from Do You Smell That!!?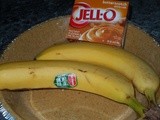 Butterscotch Banana Pie
By Do You Smell That!!?
12/03/11 06:34
Wanna see just about the easiest pie ever? Check it out: Get a ready-made graham cracker crust, some bananas & a box of instant butterscotch pudding (& the milk to mix up the pudding). Slice up the bananas into the bottom of the pie crust. Mix up the pudding,...
Add to my recipe book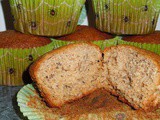 Banana Muffins
By Do You Smell That!!?
08/13/11 05:26
It seems like my kids go in phases with their banana eating. I've got 1 that never likes them, 1 that always loves them and 2 that are wishy washy. We're kind of in the lull part of their swinging banana preferences, I guess, because the last few times...
Add to my recipe book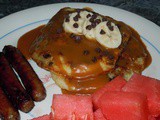 Chunky Monkey Pancakes (Banana, chocolate chip pancakes w/ peanut butter maple syrup)
By Do You Smell That!!?
06/09/11 08:03
I dog-eared this recipe quite a ways back & have been meaning to make it forever. When the gal was talking about spreading her pancakes with peanut butter & then adding the syrup I immediately though of Hubby - he does the same thing. I thought he was the...
Add to my recipe book